The Taboo Doctor answers the health questions that you have been too afraid to ask. We demystify all health topics which had previously been termed as taboo. 1. by keeping you informed of important health topics 2. engaging in candid health chat 3. Listening to your own health stories By keeping to these principles our Mission is; To turn you into a health champion wherever you go, as you slice health fact away from fiction
Episodes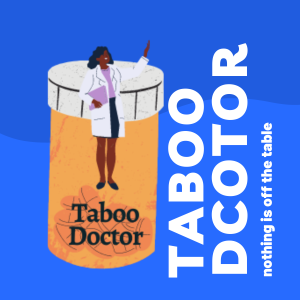 Wednesday Dec 02, 2020
Wednesday Dec 02, 2020
On this episode we are joined by Michelle Nyasa. Michelle was diagnosed with psoriasis as a child.
Psoriasis is an autoimmune skin condition which causes skin cells to reproduce at a faster rate.
Michelle shares her journey to her diagnosis and how psoriasis affects her on a daily basis and how she is helping empower black women who are living with a diagnosis of psoriasis.
Don't forget to subscribe You can find Michelle online instagram | https://www.instagram.com/lordmich/
You can reach out to Taboo doctor and send us questions comments and suggestions
Email | hello@taboodoctor.com
Website | http://taboodoctor.com/
Instagram | https://www.instagram.com/taboodoctor
Taboo Doctor is an information sharing and educational platform only. The information on this site should not serve as medical advice. If you need one to one medical advice please see your doctor.